Wood burning compartment is in sauna room. Standard stoves are made considering an opportunity with upper or back-wall connection with chimney. An opportunity to order reverse model, i. e. with upper connection only, on the side of a burning compartment door.
Mini
PS series models are meant to be used for heating smaller sauna rooms and barrel saunas and intended for generating dry or moist steam. The sauna stove is equipped with three double walls (on sides and at the back), which enable to decrease the safety distances by half compered to our P-series stoves (safety distances in manual).
Heater (model PS-110),with heated area 5 -12 m³; stove height 60 сm. Stones 20 kg.
All sizes are given in manuals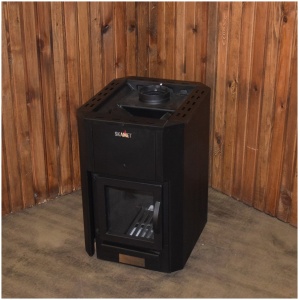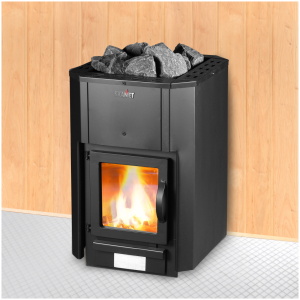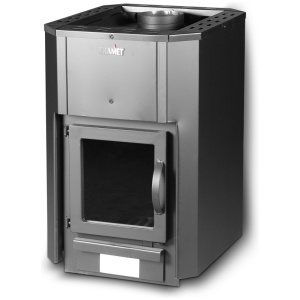 Standard product parameters:
»  glass door (200 x 220 mm);
»  upper chimney connection;
»  door hinges on the left;
»  black colour of casing;
»  sauna stove is covered with thermal paint;
»  metal handle.
Additional facilities:
»  wooden handle;
»  door hinges on the right-hand side;
»  red/black colour of casing, including its upper part, or made from stainless steel;;
»  upper part of casing from stainless steel;
»  find more options here
Basic stove
Sauna stoves are made in two sizes:
Smaller heater (model P-116) with heated area 8 -18 m³; stove height 73 сm. Stones 40 kg.
Bigger heater (model P-120) with heated area 16-25 m³; stove height 81 сm. Stones 50 kg.
All sizes are given in manuals
Standard product parameters:
»  without or with glass door (230 x 230 mm);
»  upper and back-side chimney connection;
»  door hinges on the left;
»  colour of casing: red /black;
»  sauna stove is covered with thermal paint;
»  with or without opportunity to connect to water tank (back, left-hand or right-hand side connection).
Additional facilities:
»  stainless steel handle (like a handle for the fireplace door);
»  reverse model of stove;
»  door hinges on the right-hand side;
»  black colour of casing, including its upper part, or made from stainless steel;
»  upper part of casing from stainless steel;
»  find more options here
Models with water tanks 
Sauna stoves are made in two sizes:
Smaller heater (model P-11640) with heated area 8 -18 m³; stove height 73 сm. Stones 40 kg.
Bigger heater (model P-12040) with heated area 16-25 m³; stove height 81 сm. Stones 50 kg.
All sizes are given in manuals
Standard product parameters:
»  without or with glass door (230 x 230 mm);
»  upper and back-side chimney connection;
»  door hinges on the left;
»  black colour of casing and upper edge from stainless steel;
»  40-litre-tank made from base metal (on the right, left or back);
»   tank lid from stainless steel
Additional facilities:
»  stainless steel handle (like a handle for the fireplace door);
»  reverse model of stove;
»  door hinges on the right-hand side;
»  colour of casing fully red/black or from stainless steel
»  40-litre-tank made from stainless steel;
»  find more options here